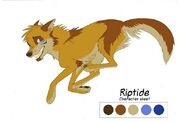 Riptide is a side character of Kay Fedewa's The Blackblood Alliance. He is a male direwolf Blackblood.
Riptide is the son of Fairstep. He is a former elite guard. He was also expelled from Inaria.
Riptide je syn Fairstep (otec neznámy) a El. On je strážca. . Je bratranec a priateľ Swiftkill a Bloodspill. On najradšej vtipkuje, flirtuje, spí a robí si žarty z Bloodspill. Bol medzi Blackbloods, že boli vyhnaní z Inaria.
Rodina Riptide matka> je Fairstep , ale to nie je známe, kto je jeho biologickým otcom. On má dve sesternice, Bloodspill a Swiftkill, strýko vymenoval Banehallow, a bezmenný teta, ktorá je Swiftkill matka.
Edit
Ad blocker interference detected!
Wikia is a free-to-use site that makes money from advertising. We have a modified experience for viewers using ad blockers

Wikia is not accessible if you've made further modifications. Remove the custom ad blocker rule(s) and the page will load as expected.